Mrs Cake, first name Cup, although as a filly, she was Chifonne Swirl, whether or not she changed her name or if "Cup" is a nickname is unknown, is an Earth mare and the mother of Pound Cake and Pumpkin Cake and wife of Mr Carrot Cake.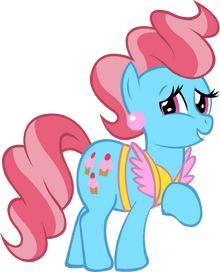 Appearance
Edit
Mrs Cake is medium blue with a pink, swirly, striped mane and tail and a cutie mark of three pink-iced chocolate cupcakes. She is a bit chubbier than most ponies, similar to Big Mac in build. She wears a frilly pink and yellow top and pink earrings.
Personality
Edit
Mrs Cake is very friendly and a good friend, wife and mother. She's also a very good baker.
Earlier Life
Edit
As a filly, she was very good friends with Pear Butter, who taught her how to bake, which earned her her cutie mark.
In her teens, she went to surprise Pear Butter with a cake and found out that she was dating Bright Macintosh.